This week was a whirlwind of happiness; exchanging creative ideas with passionate teachers and learners; little to no sleep; lots of hard work; and so many new friends! But first, what the heck is Write for a Bright Future?
Write for a Bright Future was the first international gathering of organizations and projects that have been inspired by 826 centers in the United States (like 826michigan that I work with!) The Ministry of Stories hosted the event, which enabled them to let part of the week be led by children from its writing clubs. This was super important to us – if we are meeting for and about children, they should be represented at the event, too! There were 26 sessions over 4 days, which were attended by over 150 delegates and guests (all of whom I made the name badges for, so I knew everyone's name!) The range of content included presentations and workshops by the various centers' ambassadors,  panel discussions with writers, a walking tour of Hoxton, a literary battle and the launch of a book contributed to by over 200 children from across the world.
The following writing centers attended (I encourage you to peruse their websites and their projects!):
Berättarministeriet, Stockholm, Sweden.
Fighting Words Belfast, Northern Ireland.
Fighting Words Dublin, Republic of Ireland.
Fundación Cientouno, Santiago, Chile.
Gabinete de Historias, Buenos Aires, Argentina.
Grimm & Co, Rotherham, England.
Hygge Factory, Copenhagen, Denmark
Labo des Histoires, Paris, France.
La Grande Fabbrica delle Parole, Milan, Italy.
Little Green Pig, Brighton, England.
Ministry of Stories, London, England.
Noordjes Kinderkunst, Amsterdam, Netherlands.
Porto delle Storie, Florence, Italy.
Story Planet, Toronto, Canada.
Sydney Story Factory, Australia.
Vox Prima, Barcelona, Spain.
100 Story Building, Melbourne, Australia.
826 National, United States
To keep this post novella-length (and not longer!), I'll list my top moments (which will be difficult, but I'll try to narrow it down!) My enthusiasm bubbles over when I even think about this week! I was the right hand girl of the amazing project manager, Yemisi Blake, so I basically worked from 8 am til sometimes 10 pm every day. The days were long and I was always running around, but it truly has been one of the most gracious, thought-provoking, inspiring and satisfying weeks I've had in a while. It really has made me excited to continue my work in this field any way that I can.
Writer to Writer Panel Discussion:
Three lucky students from the Saturday morning Writing Club at the Ministry were chosen to interview Dave Eggers, Nick Hornby, and Roddy Doyle, the world-famous authors who helped to create, respectively, 826National, Ministry of Stories, and Fighting Words Dublin. In front of a 150-member audience of parents, journalists, and trustees, I would have expected the students to be shaking in their Plimsolls! But all six writers in front of us were perfectly poised. The kids were impressively professional and asked perceptive questions, such as "Have you seen someone read your books?", "What do you do when you aren't writing?", "Which book are you most proud of?" and "Do you draw your characters before you write about them?" Dave, Nick, and Roddy were so charming and encouraging for the kids. The whole night was very conversational, which allowed the kids to feel more confident and even enabled them to ad lib a bit, always with the preface, "This question isn't on the paper, but I'm going to ask it anyway." I believe that this night will stay with these Question Masters for a very long time. The most special thing about the event is that the kids can see clearly that a goal as a writer is achievable. Dave, Roddy, and Nick are proof that if you work hard and follow what you love, you can do anything. And now, the Question Masters have seen that firsthand.
Live Tweeting for the First Time Ever!
If you check out @mini_stories on Twitter, you'll be able to see all of the Tweets I wrote throughout the week. I took pictures, thought of ways to quote important themes and ideas from the various presentations and workshops, and tried to drum up as much virtual excitement about the week as possible. It honestly was a challenge to try to stuff as much as I wanted to say, usually with the hashtag #writebright15 at the end, within the 140 character limit. An exercise to practice succinct writing!  My personal favorite Tweets from the week?
First, a few silly ones: This batch came out of the Product-Naming Workshop led by the Ministry's own Shop Manager, Emily. Because we have a storefront that specializes in bespoke monster supplies, the tweets naturally led themselves to be a bit beastly.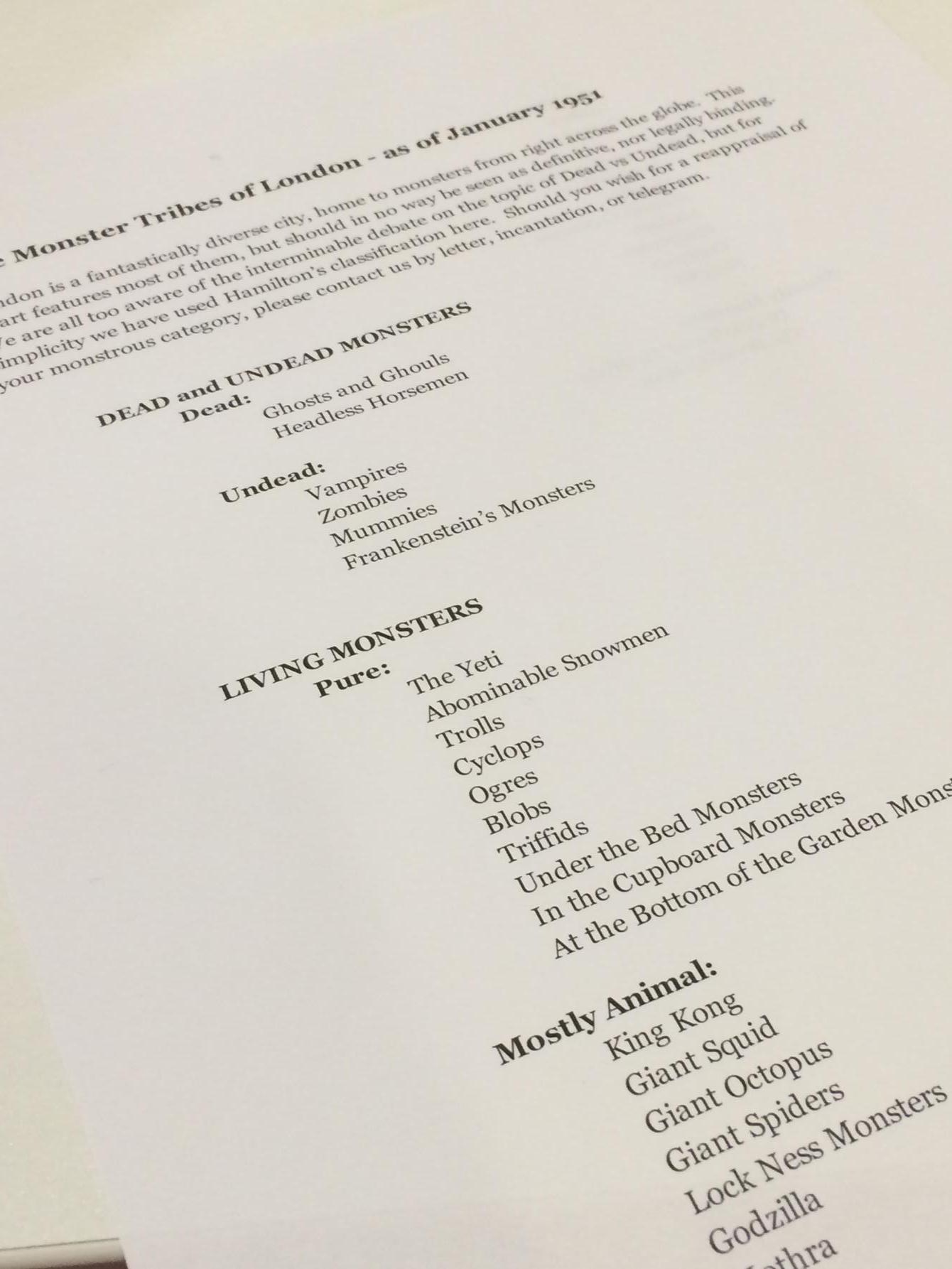 #2: Sitting in a mixed room of alive, dead, half-dead vampire, banshee, faerie, and bewitched delegates. Celebrating diversity #WriteBright2015 #3: Ideas from Product Naming Session: cold water bottles. Perfect for Yetis and English summer heat waves. #WriteBright2015
One of the very last Tweets of the entire week was also one of my favorites because it summed up the goal and total truth of the conference. 
#4: We will always have each other's back. #WriteBright15: A global support group for creativity & the right to write.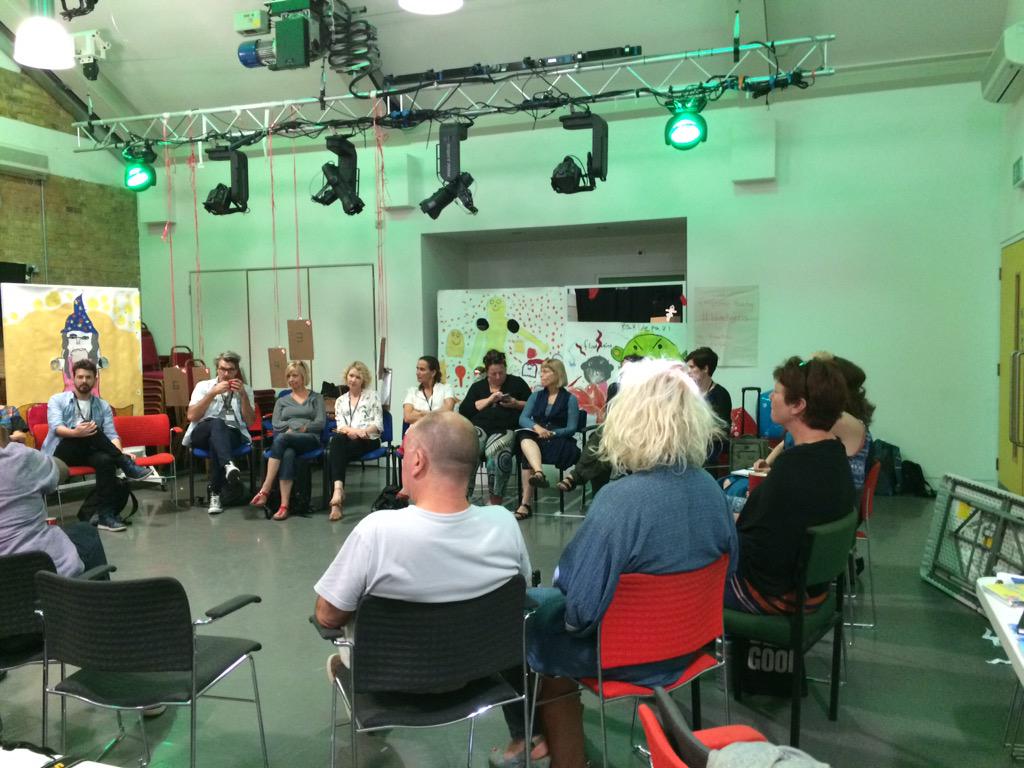 Attending the inspiring workshops: I really enjoyed having the opportunity to learn about all aspects of running a creative writing center, including the programming, evaluation (from students and the center itself), funding, community engagement strategies, combining science/technology/engineering/math with creative writing, etc. It meant even more hearing that the work we do every day is also done around the world. Because I have now seen both 826 and Ministry operations, I could compare those two easily. But, this conference pulls the world together into this small knit quilt. We all have the same goal to warm the world by giving all students the chance to tell their own story, yet our patches are slightly different: our patterns, our environment, the students coming to us, our own interests and skills. Because the industry is collaborative in nature and not competitive, these workshops were an amazing opportunity to peer into the windows of each organization and take an idea or two to bring back to our own. Plus, when you realize that you both are doing something the same, POSITIVE REINFORCEMENT whips a pie of joy in your face. A program must be good if we're both doing it!
Literary Wrestling Match (A Very Short Summary!)
The gist: Think Nacho LIBRE (as in books!)- dramatic, theatrical wrestling but with story-writing instead of belly-flops.
Basically, on Thursday night, we formed teams and in the ring, there were two computers facing each other. Each computer was hooked to a projector. One member from each of the groups would face off against the other. You then had two minutes to write as much of a story as you could within the "constraints": for example, write a story that starts "it was so cold" or a story in which you must use the word "torpedo" or "about a romantic dog." T
hen the audience, having heard both stories read out loud, gets to judge the stories. After each member of the teams has gone, the final coherent (or less coherent as the night went on) story gets voted on and the winner moves on to the next round. Make sense? It was amazingly fun and definitely replicable. I plan to bring it back to my student publication org and use it as a possible fundraising event/casual Friday night hang-out party activity!
One Story, Many Endings Book Launch with the kids:
It all started when the Saturday morning Writing Club at the Ministry of Stories was disappointed that all the adult delegates would get to travel around the world, but yet the kids wouldn't get to meet the other kids from the delegates' centers. They came up with the brilliant idea to start a  BIG STORY…and then, they would send it to all of the children at the centers around the world to create an ending. The final project is an anthology with all seventeen stories collected together – complete with foreign language originals and their English translations. It's a beautiful masterpiece, and the kids presented their story, a few of the pen-pal videos sent to centers, and some of the thank you notes they wrote to the global centers. We were all so proud of the students – a bit teary-eyed, we gave them an ecstatic standing ovation. I'm not sure they even understood what was going on! You could tell they were proud of themselves, though. It hit me afterward that that room was probably one of the safest places that they could have presented in, being filled with encouraging, kid-loving storytellers. A non-judgmental zone if there ever was one. And so much happiness!
Meeting lovely friends and mentors:  The directors and colleagues that I met this week have inspired and encouraged me to be passionate, to be social, to be connected, to be creative, to be a friend, to be appreciative, to be helpful, to be honest, to look up, to be reflective…to be me. I am forever thankful for their friendship and advice, and am already planning my worldwide trip to visit each of their centers! Hold on tight, World, I'm coming!
I can't thank serendipity itself more for letting me have this opportunity. I say that because when I was hired to work at the Ministry this summer, I had no idea that this conference was even happening! And I ended up taking one of the lead roles in the entire event! I think I've gained so much as a person this week, but hopefully, I gave even more to the delegates of the world, to the children, and to the future of creative writing!
*For anyone interested, we ate very well over the week too! (workers and delegates ate for free, which was so generous!) Here are links to the caterers and restaurants who fed us: Towpath Cafe, Mangal Restaurant (Turkish – they claim the best…on second thought…doesn't everyone?), Masala Brick Lane,  Humdingers (very impressed with Humdingers!)
THE END! Whooo!!! How'd I do? Novella and a half? 🙂